Life, work, and meaning in the lockdown.
Does the lockdown offer a hazy glimpse of our future under automation?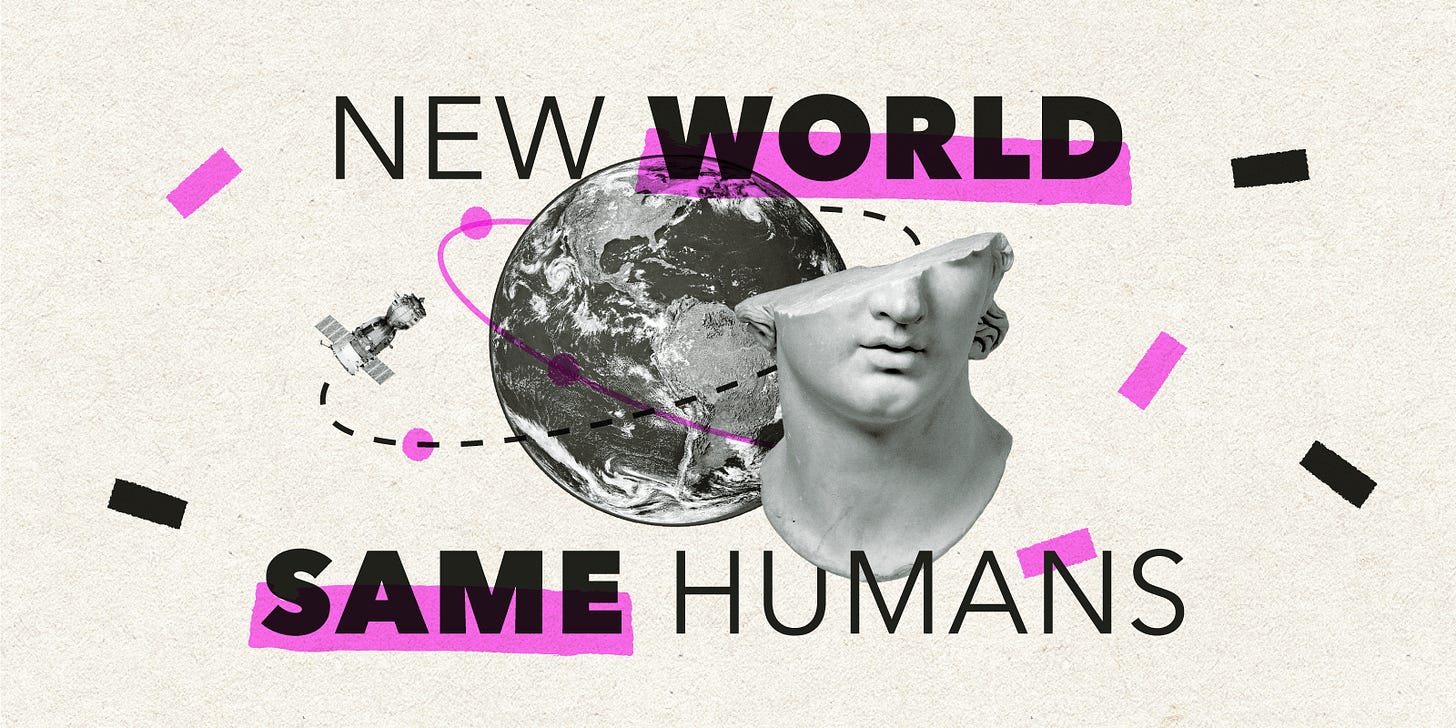 This is a special instalment of New World Same Humans, David Mattin's weekly newsletter on trends, technology, and society.
---
This week I promised a midweek note. So here it is: a thought on the shape that our economies may take – and even the shape they should take – in the decades ahead.
I can't help feeling that in the priorities we see rising to the surface during lockdown, we catch a glimpse of the future. Specifically, we glimpse this truth: in a world where many people will not be active participants in the economy, we're left with two imperatives. To entertain one another. And to care for one another.
---
Under lockdown, demand for entertainment has skyrocketed (no surprise). Netflix has added 16 million subscribers this year alone: a record for the company. Call of Duty: Warzone reached 50 million players in three-and-a-half weeks. Meanwhile, in a networked world peers can entertain one another: millions of TikTok users are attending 'cloud raves'.
Lockdown has also involved many of us in forms of care work. We're firing up Zoom calls with our parents, or dropping groceries at the front door. We're checking on the elderly people on our street, and opening a WhatsApp group so neighbours who live alone can stay in touch. We're caring for our children all day instead of doing the school drop off.
These changes are happening because of the pandemic. So what can they tell us about the longer-term future?
Immediately after lockdown, hundreds of millions of people around the world will return to work. But technologists tell us that the 21st-century will be shaped by a powerful megatrend that will obviate the need for much human labour: automation. According to one estimate, automation technologies will eat 800 million jobs by 2030. As the Economist columnist Ryan Avent points out in The Wealth of Humans, we're building economies in which ever-fewer people are needed to support ever-more stupendous output.
What will all those economically unnecessary people do?
Well, in a world in which we can amazing productivity with minimal human input, what is left for us to do? The answer, it seems to me, is simply to be with one another. Principally, that means to entertain one another, and care for one another.
In an automated future, entertainment and care will be at the heart of how we think about work. How we think about our purpose. How we think about what life is for.
Of course, entertainment can be delivered on a one-to-many basis. One Twitch streamer can sit in her bedroom and entertain 10 million people simultaneously. That means there will always be something of a winner-takes-all congregation around stars when it comes to entertainment.
But care is different. To care for someone means one-on-one attention, listening, touch; all the interactions that make that person feel recognised, and loved. Care of that kind is an irreducible human activity; it cannot be delivered at scale, it cannot be automated. A robot cannot replace a son caring for his elderly mother. In an automated future all that care work will still be waiting to be done.
Perhaps in our lives under lockdown, then, we see a hazy, partial future-ghost of what life looks like under automation. Perhaps, to extend that thought, this moment is even helping to reshape the way many feel their lives should be in future, and that has implications for our automated future. Temporarily absent from work and plunged into spending more time with loved ones, some people are reassessing their priorities and wondering if life back at the office was really as important as it seemed. Freed from demands of the economy, they are spending more time caring for family and friends.
So I can't help wondering: will the imprint left by the lockdown – psychological, cultural and economic – accelerate our movement towards a future in which people embrace the idea of work as being there for one another? Hundreds of millions in future will find they have no role to take up in the traditional economy. Meanwhile, ageing populations mean there will be more elderly people to care for than ever. Will the cultural memory of lockdown make it easier for us as a society to understand that in the 21st-century, the most meaningful and available work for many will be the work of being there for those around them?
This all needs to come with a couple of caveats. First, I don't want to paint unrealistic picture of the lockdown. For many – especially those without resources – the lockdown is far from an entertainment and care nirvana. It's stressful, scary, and hard. And much about life right now is lockdown-specific, and not translatable to any automated future.
Even amid that, though, lockdown seems to have opened a space for many to reassess meaning in their lives. I'm involved in a project to listen to consumers talking about their daily lives during the pandemic, and one of the most frequent refrains is, 'I'm really appreciating the extra time with family'.
Second, right now, millions are being supported by furlough pay, savings, or help from relatives. But what would they be supported by in the automated future of an entertainment and care-based turn back to one another? The answer, surely, is that we'll have to learn to share the fruits of our automated economy. Yes, that means some form of Universal Basic Income.
That kind of change would constitute a true 21st-century, automation-fuelled revolution. It would mean huge changes to the kinds of work we prioritise, the way we live, what we think life is ultimately for. Change that must start with a revolutionary message delivered to a new generation of young people:
'Your societies are changing. They are not the societies your parents grew up in. Many of you will never have a traditional job. Your primary value as a human is not the value you bring to the economy. Our economy is supposed to serve us; we are not supposed to serve it. If you spend your life making the lives of those around you worth living, we promise we will recognise you as being engaged in one of the highest forms of human activity there is.'
This feels a long way off right now. But I wonder if this moment has made that message somewhat easier to articulate. And if the days we're living through right now will influence the conversation about automation, work, and meaning that lies ahead.
---
We are rising
Thanks to those who signed up specially to get this week's note. And to all of you who've joined me on the journey of understanding that is New World Same Humans.
Week on week, our community is growing. As promised, I'll soon open a Slack group where we can share ideas, perspectives and evidence on our shared future. If you'd like to be one of the super-users of that community, responsible for posting relevant news and keeping conversation on track, message me on LinkedIn.
In the meantime, please share this email far and wide with colleagues and friends who'd be an asset to our group. The stronger it becomes, the better for all of us!
I'll be back as usual on Sunday evening,
David.